Becoming alive again…with body and soul
…that is how I would describe the goal of my work. My approach to psychotherapy provides a combination of different techniques from body-oriented psychotherapy and talk therapy for your personal growth.

Body-Oriented Psychotherapy ⋅ Talk Therapy ⋅ Mindfulness ⋅ Brief Therapy ⋅ Support with Serious Diseases and Psychooncology ⋅ Spirituality and Meaning
I am offering therapy in English – you are welcome to make an appointment for a short first meeting free of charge and we will find out if you feel in good hands with me. Please expect some waiting time.
Due to the current pandemic situation, I am also offering counseling sessions via online video calls.
However, please note that German statutory health insurances do not cover the costs for subsequent meetings. My rate is 90 EUR per session (one hour). I am offering a limited number of places on a sliding scale fee depending on your financial situation. Please ask.
Your dog is welcome in my rooms as long as he or she is house-trained and not aggressive. My rescue dog Bugi (neutered male) will also be around.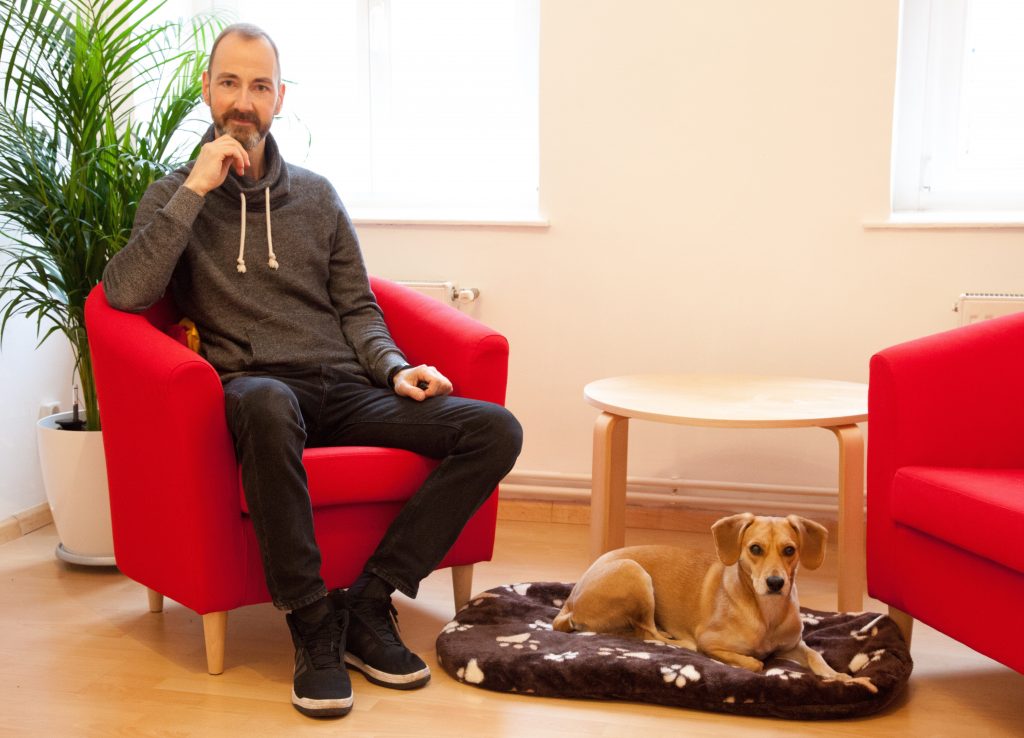 The team 😉
---
Body-Oriented Psychotherapy
The knowledge about emotions and moods that happen not only in our brain but also in our body is the common basis of body-oriented psychotherapy approaches. And in fact, we probably all know that emotions can often be sensed somewhere in the body, e.g. a blush of shame feels hot in the face or fear comes with nausea and a tight belly. On the other hand, exercises or massage can sometimes cause unexpected emotions, e.g. like a strange sadness or seemingly causeless euphoria when a certain body part relaxes. This is because our bodies store emotions and experiences in our muscles and other parts of the body – the so-called somatic memory.
Most people have to face rejection, hurt feelings, a lack of attention, excessive demands or sometimes even traumatic experiences at some points in life. Even if we can't remember the situations, our body can recall the connected feelings. Working with this somatic memory is usually much more direct and intense than just talking about it. Interventions like focussing on parts of the body, breathing, certain exercises, holding or mindful touch (by the client him/herself or according to prior agreement by the therapist) may help to get in contact with those suppressed or even blocked emotions and to further work on conditions influenced by these blockades.
Good examples where body-oriented psychotherapy can help are depressions, psychosomatic illness, low self-esteem, restraint, trauma or resistance in personal growth. The ultimate goal is a well-balanced personality that can appropriately express emotions like joy and anger, handle the ups and downs in life, and maintain a healthy connection to one's self.
Talk Therapy
Looking at the past can help you understand things in your life. Focusing on the present can help you cope with your current state and prepare for the future. So, both are useful, especially in combination with each other.
Based on widely accepted findings in psychotherapeutical research and neuroscience, integrative psychotherapy combines elements from different psychotherapeutic schools in order to find the most effective and holistic way to support every individual client. Techniques and models from approaches like client-centered counseling, schema therapy, Gestalt therapy, depth psychology, hypnotherapy, systemic therapy and others are used to enable successful and individually tailored therapy.
Brief Therapy
Brief therapy techniques strengthen the client's autonomy and focus on solutions rather than getting lost in conflicts or problems. The therapist helps to develop pathways to the desired solution and to apply the client's own competencies and resources in everyday life. I favor this approach for clearly defined conflicts and issues of limited complexity.
Short therapy duration typically results from the clear priority of solution finding in the process. However, the individual pace of the subject still defines how long the therapy will take. As a rule of thumb, most brief therapies span four to seven sessions. The time between individual meetings vary between a few days and several weeks.
Mindfulness
These techniques originate from ancient meditation practices like vipassana. Developing mindfulness towards your body and soul is a key to relaxation, an even temper and change harmful patterns of behavior and thoughts, which I like to use frequently. Fortunately, mindfulness can be learned and works just as well without any spiritual background.
As a first step you learn how to observe your body and to notice physical sensations without judging them. That alone can already be very helpful in distracting yourself from pondering or pain. The second step is becoming aware of thoughts and feelings and accepting them without being influenced by them. This puts you in a position where you can stop vicious circles of unsettling perceptions before they start. Together with insights you worked out with your therapist about maybe problematic patterns, you could eventually learn how to avoid their initiation.
Support With Serious Diseases and Psychooncology
Eventually caring for yourself again and concentrating on the essential things in your life can greatly improve resilience. Patients who are confronted with diagnosis of a serious disease unquestionably undergo a high level of stress. However, while managing symptoms, medical treatments and side effects, psychological health is often not in focus. Nevertheless, existential questions, fears, regrets, feelings of guilt or silent reproaches can cost a lot of energy that could be used in a better way but it may be difficult to address them alone.
From my personal experience I know that supportive psychotherapy can help to resolve these issues and to entirely aim at improvement of health instead. At the same time, changes in life, which may be necessary can be facilitated. Furthermore, deep relaxation may activate resources and visualization of successful medical treatment helps to focus on recovery. If recovery seems impossible it is even more important to maintain your innate self beyond disease and to talk about all issues with an open an unbiased person.
The goal of therapy is to improve quality of life and to connect with your life force in the presence – independent of disease stages or insecure expectations about the future.
Spirituality and Meaning
In my understanding, psychotherapy is not bound to any religion, ideology or spiritual school.
Everybody, no matter what they believe in – or doesn't believe is welcome. However, spirituality can be a great resource in life, especially in tough times. So don't hesitate to address your beliefs and spiritual ideas in your therapy if there are any. Equally, raising awareness of your values in life and the meaning of your existence can give surprising new insights into things to change for better.